Wrack Line Blog "about" and "AD policy" (hint: no ads!) can be found below the picture. What's a "Wrack Line"
What's NEW in the Wrackline blog?
NEW: "Music Theory: Pythagoras and Musical Scales". Pythagoras had a profound effect on music with his discovery that the most consonant notes have the simplest fractional ratios.
NEW: "Music Theory: Chords and Triads". Here's the "theory" behind all those harmonious-sounding 3-note chords.
NEW: "Don't Just Incubate. Fight Back!" This article suggests that, while there are no cures - or even guaranteed preventatives - for viral infections, trying an ancient herbal compound may be better than doing nothing.
NEW: "Marvel Avengers Timeline". Here's highlights of key events, key names, Infinity Stone stats, and even Ending Credits Easter Eggs! It's under the "Essays" category.
NEW: "Home Theater Made Simple". How to set up your own Home Theater system. Also has a Magic Decoder Ring for all the BUZZWORDS. Just updated with more info on HDR and Dolby Atmos.
UPDATED: "Jimmie's Top 500 Ambients": 38 new tracks have been added, for an actual total of 658!
Check out "The Standard Superhero Plot"! It's a spoof on Superhero movies, since every superhero movie has essentially the SAME plot! Look in "Essays".
Check out "Tips on using the iPhone Camera". Make use of the Little Yellow Rectangle. Learn how to "stop down" for more dramatic pictures. Lock the focus and exposure. Plus two VERY useful gadgits.
Check out "Wishlist for New Homes"! I have actually not found a more comprehensive list in my own internet searching.
Updated Weekly: "Entries from Jimmie's Journal." The home page will feature a quote from my journals, which span from 1975 to the present. It is hoped that these little quotes may lead to a little extra depth of feeling for you, and that some of them might even lead to a greater understanding of our relationship to the Universal Consciousness. And also, some of 'em are for just for the sake of humor! There's also a "Previous Journal Entries" link for past quotes. This is also updated weekly (unless, of course, yours truly is busy fiddling with home improvement or landscaping projects!)
 Click the audio player below for some quiet music to accompany your reading, if you want to.
3/14/2020: Unworthiness was Actually a Prayer.
 In my (Catholic) education as a kid, unworthiness was actually a Prayer. It was the "Act of Contrition", and we were to say it daily. It went like this:
 "Lord I am not worthy but only say Thy word and my soul will be healed." If I recall correctly, it was the first bead on a Rosary.
 But wait. It gets worse: You could get Points for Using the Rosary(!) When I was thinking about the Act of Contrition, I remembered that you got "points" for saying prayers or using the Rosary. The phrase "Plenary Indulgence" came to mind.
 So I looked it up, thinking to myself "Surely this silliness has been put to rest!" Well, I quickly found it hasn't. By saying certain prayers you can reduce your punishment!
 Here's a quote from the Catholic site, catholic.org/prayers/indulgc.php:
 "Indulgences are two kinds: partial and plenary. A partial indulgence removes part of the temporal punishment due for sins. A plenary indulgence removes all of it. This punishment may come either in this life, in the form of various sufferings, or in the next life, in purgatory. What we don't get rid of here we suffer there."
 Is that what I really was taught?!? Is sickness or mental suffering a punishment from "God" (the Punitive, Judgemental God that many of us learned about as kids)?? How many people are accepting Fibromyalgia, Rheumatic Arthritis, Irritable Bowel Syndrome, and other chronic "diseases" because they think they are deserved???
 So now I would reword the Act of Contrition like this:
 "Lord I am worthy, and I will say the word, and my word (though it is not "me") will bring about my healing."
 That is, the healing words are not spoken by "me" - the person who was born on the East Coast. Nor are they spoken by "Thy" - a Being "out there" or "up there". Rather, the Spirit within - the real "me" - speaks the words of healing. As Participants in the Universal Consciousness, our words of healing are spoken with the same authority as were the Words of the Timeless Formless One when It spoke the words of creation at the time of the Big Bang.
 Oh, and also I replaced "my soul will be healed" with "I will be healed." We are not a "soul/mind/spirit/psyche" imprisoned in an materialistic electrochemical "body". Instead we are a unified entity, a "body/mind", and our physical form is the Incarnation of the Great Spirit, and as such is a Spiritual Entity whose natural state is one of health and ease, that is, absence of "dis-ease".
Cape meares (taken by my wife)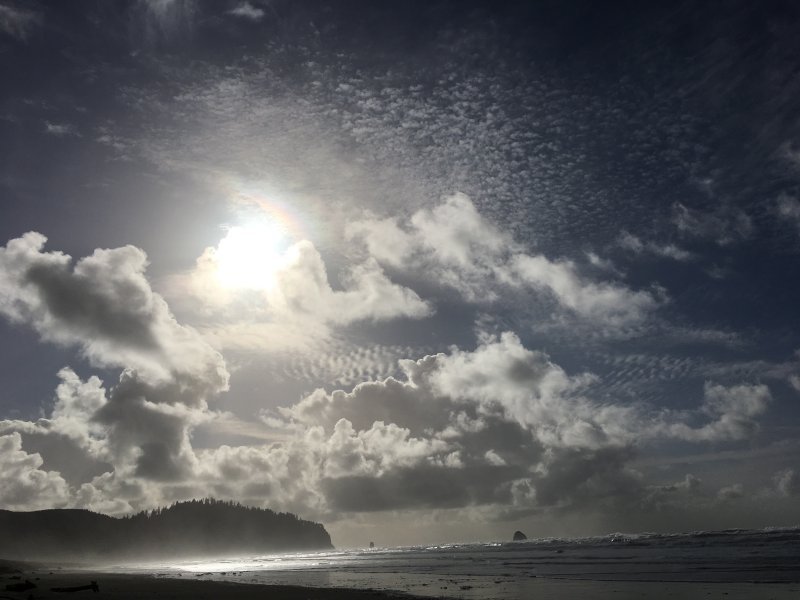 Click the player to listen to the author's "Ambient 8"
Wrackline "about":
The Wracklineblog started with the "Hwy 101 Beaches" links. These lead to individual pages covering more than 70 beaches from Astoria, Oregon down to Brookings, Oregon. Each page has beach/park information, usually a picture of the entrance sign, and one or more scenic pictures taken by the author. Here's an illustrated sample

 However, the Wracklineblog has expanded, and now has photography tips, an exhaustive list of the most moving ambient music, and a growing health/nutrition section, with vegetarian recipes and nutrition information, and various essays, including the newly-added "excerpts from Jimmie's Journals". Some "HTML coding" references and a cool HTML color tool have also been added.
Wrackline "AD Policy":
NO ads! NOTHING that moves! Period.
 However some of the sections have links that will allow you to purchase books and/or other items. For example, the Photography Tips section offers links to purchase the cameras/lenses that were used to create all the pictures in the blog. If you have an interest for any of these books or items, purchasing them by way of these links will provide a little extra income for the author, who is retired.
 NOTE: Clicking on these Amazon links takes you to the same location that you would get if you searched for and clicked on yourself. The security level is the same, and there is no difference in price. Amazon has an "Associates" package, in which Amazon itself pays a small percentage to the referring web site.