Wrack Line Blog "about" and "AD policy" (hint: no ads!) can be found below the picture. What's a "Wrack Line"
What's NEW in the Wrackline blog?
NEW: "Music Theory: Pythagoras and Musical Scales". Pythagoras had a profound effect on music with his discovery that the most consonant notes have the simplest fractional ratios.
NEW: "Music Theory: Chords and Triads". Here's the "theory" behind all those harmonious-sounding 3-note chords.
NEW: "Gardening Made Easy - Spring Maintenance". Make your plants shine by aerating the soil, applying natural fertilizer, and spreading mulch
UPDATED: "Gardening Made Easy - Planting". Added a new section on planting trees even if your soil is no good!
UPDATED: "Eliminate Muscle Pain". New comments on how "hand muscles" are mainly in the forearm, and "foot muscles" are mainly in the lower leg! This is in the "self-applied massage" section.
UPDATED: "Growing blueberries". Added some comments on insufficient water in early Spring, when the berries are emerging.
UPDATED: "Growing strawberries". Added some comments on keeping the "invasive" little buggers in check!
UPDATED: "Jimmie's Top 500 Ambients". 26 new tracks have been added, for an actual total of 684!
RECENT: "Don't Just Incubate. Fight Back!" This article suggests that, while there are no cures - or even guaranteed preventatives - for viral infections, trying an ancient herbal compound may be better than doing nothing.
RECENT: "Marvel Avengers Timeline". Here's highlights of key events, key names, Infinity Stone stats, and even Ending Credits Easter Eggs! It's under the "Essays" category.
RECENT: "Home Theater Made Simple". How to set up your own Home Theater system. Also has a Magic Decoder Ring for all the BUZZWORDS. Just updated with more info on HDR and Dolby Atmos.
Check out "The Standard Superhero Plot"! It's a spoof on Superhero movies, since every superhero movie has essentially the SAME plot! Look in "Essays".
Check out "Tips on using the iPhone Camera". Make use of the Little Yellow Rectangle. Learn how to "stop down" for more dramatic pictures. Lock the focus and exposure. Plus two VERY useful gadgits.
Check out "Wishlist for New Homes"! I have actually not found a more comprehensive list in my own internet searching.
Updated Weekly: "Entries from Jimmie's Journal." The home page will feature a quote from my journals, which span from 1975 to the present. It is hoped that these little quotes may lead to a little extra depth of feeling for you, and that some of them might even lead to a greater understanding of our relationship to the Universal Consciousness. And also, some of 'em are for just for the sake of humor! There's also a "Previous Journal Entries" link for past quotes. This is also updated weekly (unless, of course, yours truly is busy fiddling with home improvement or landscaping projects!)
 Click the audio player below for some quiet music to accompany your reading, if you want to.
8/11/2011: Words and Desires. (More on Just Observing the Birds)
(The "Weekly meditation" just before this one - available in "Previous Journal Entries" on the right - was "Our Purpose is Just To Observe the Birds".
 The Buddhism tape this morning discussed our constant dissatisfaction with life. Why? Mainly because of our mind and its constant desire to have "reality be something other than it is."
 When I arrived at the corporate parking lot, I looked out at the field between me and the small lake. A group of black birds were lurching around in the flowers and the dry grasses, searching for insects I suppose. Some looked up and about; Some looked at me in the car.
 Suddenly they all jumped up and flew off in unison, to alight on the top of two distant pine trees.
 Then I found myself imagining - as I have many times before - what it would be like if my wife and I were birds, maybe eagles. I imagined the two of us talking, since this seemed pretty natural for two humans that have been converted to birds.
 I briefly thought about what it would be like if we really couldn't talk - "We'll just scratch out our sentences in the dirt".
 That didn't make for a very engaging daydream, so I went back to the idea that we would be two "talking birds".
 And what were the first words that came to mind as I imagined my wife and I as "articulating birds"? They would surely be something on the order of "OK, where do you want to go? Anywhere but this industrial area with all these buildings and all this racket. How about a place in the coast range overlooking the ocean? Or up in the tall Cascades?"
 That is, the first thing that come to mind were words about changing the situation we were in as Birds in a Company Parking Lot.
 And yet the real birds did just fine right here, by a lovely lake which happens to be next to a semiconductor plant and an often noisy parking lot.
 And further, they acted in unison without a single formal act – something the we as a species have never done.
Scene from trail at Beaver's Bend, 7/14/2008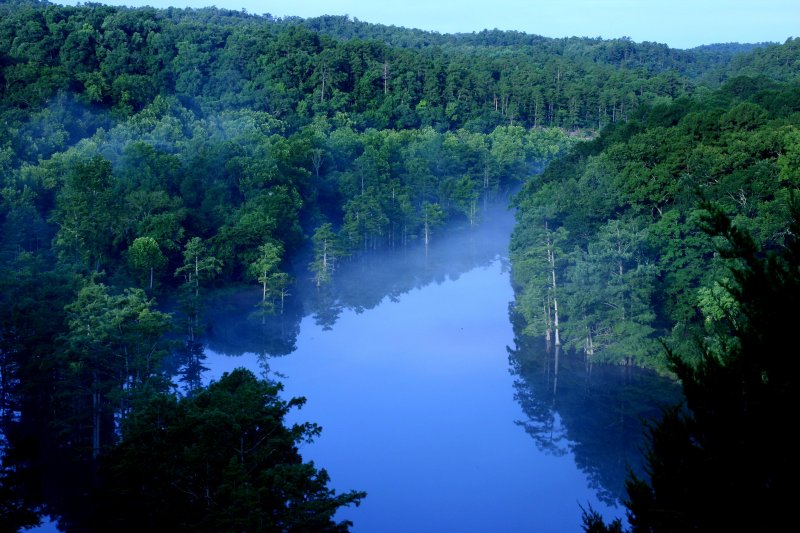 Click the player to listen to the author's "Ambient 8"
Wrackline "about":
The Wracklineblog started with the "Hwy 101 Beaches" links. These lead to individual pages covering more than 70 beaches from Astoria, Oregon down to Brookings, Oregon. Each page has beach/park information, usually a picture of the entrance sign, and one or more scenic pictures taken by the author. Here's an illustrated sample

 However, the Wracklineblog has expanded, and now has photography tips, an exhaustive list of the most moving ambient music, and a growing health/nutrition section, with vegetarian recipes and nutrition information, and various essays, including the newly-added "excerpts from Jimmie's Journals". Some "HTML coding" references and a cool HTML color tool have also been added.
Wrackline "AD Policy":
NO ads! NOTHING that moves! Period.
 However some of the sections have links that will allow you to purchase books and/or other items. For example, the Photography Tips section offers links to purchase the cameras/lenses that were used to create all the pictures in the blog. If you have an interest for any of these books or items, purchasing them by way of these links will provide a little extra income for the author, who is retired.
 NOTE: Clicking on these Amazon links takes you to the same location that you would get if you searched for and clicked on yourself. The security level is the same, and there is no difference in price. Amazon has an "Associates" package, in which Amazon itself pays a small percentage to the referring web site.