Wrack Line Blog "about" and "AD policy" can be found below the picture. What's a "Wrack Line"
Check out Jimmie's pan-fried biscuits, in the "Tasty Breakfast Ideas" Category.
Check out "Jimmies Quick Saute" in the "Quick Nutritious Lunches" Category.
What's NEW in the Wrackline blog?
NEW: "Our new pension", under "Essays". That is, the increasing use of "subscription-based services" results in our new pension plan - a "negative pension".
NEW: "Gardening Made Easy" shows you how to earn your "green thumb" badge, by simply giving plants the soil they really want.
Recent Addition: "Eliminate muscle pain"!. You CAN eliminate muscle pain, if you are willing to do 10 - 20 minutes of muscle work each day. A pictorial description on this self-applied massage appears under "Health and Nutrition"!
Recent Addition: "The Standard Superhero Plot"! It's a spoof on Superhero movies, since every superhero movie has essentially the SAME plot! Look in "Essays".
NEW: "Entries from Jimmie's Journal." The home page will feature a quote from my journals, which span from 1975 to the present. It is hoped that these little quotes may lead to a little extra depth of feeling for you, and that some of them might even lead to a greater understanding of our relationship to the Universal Consciousness. And also, some of 'em are for just for the sake of humor! There's also a "Previous Journal Entries" link for past quotes.
Current journal entry:
6/12/2018: The 'Secret' to Digging up Grass
 Over the course of several months, I have been digging up the grass in the back yard, in preparation for replacing it with gravel or rocks. The grass was one big thick, impenetrable mat, and I had finally evolved a way to dig it up after trying many methods over the last few months.
 "Well", I said, "I've finally found the secret to digging up grass."
 'Secret'? Why do we call these sorts of things 'secrets'? A secret is something that someone knows and is witholding it from others."
 "I know a secret about John and I'm not telling", says one child to another.
 So is a secret then something that the Universe knows and is making us figure it out? Or instead maybe I should just say that the technique of digging up grass is simply something that I haven't yet learned to do or found a solution for, prior to today.
 And what about the big one? "What is the secret to Life?"
 Is it really a secret or is is it something we haven't tried hard enough to learn?
 Better yet, is it something we have tried too hard to learn?
 The best answer I have ever heard for Life's secret is this quote from The Martian Chronicles. It's from the screenplay version of Martian Chronicles. (I looked in Ray Bradbury's book and did not find these words, so they must be the inspiration of the screenplay writer.)
 Colonel Lander (Charleton Heston), has just driven to a place of concrete ruins and has encountered a Martian for the first time.
Lander states that he has "waited so long for this meeting…to learn the secret of your life on Mars".
 The Martian (an actor with an opulent "Shakespearean" accent) replies:
 "Secret? There is no secret. Anyone with eyes can see the way to live."
 "How?" (asks Lander)
 "By watching life, observing nature and cooperating with it. Making common cause with the process of Existence."
 "How?"
 "By living life for itself, don't you see. Deriving pleasure from the gift of pure being."
 "The gift of pure being." (Lander repeats slowly)
 "Life is its own answer. Accept it and enjoy it day by day. Live as well as possible. Expect no more. Destroy nothing. Humble nothing. Look for fault in nothing. Leave unsullied and untouched all that is beautiful. Hold that which lives in all reverence, for life is given by the Sovereign of the Universe, given to be savored, to be luxuriated in, to be…respected.
 But that's no secret. You're intelligent. You know as well as I what has to be done.
 Now I must go."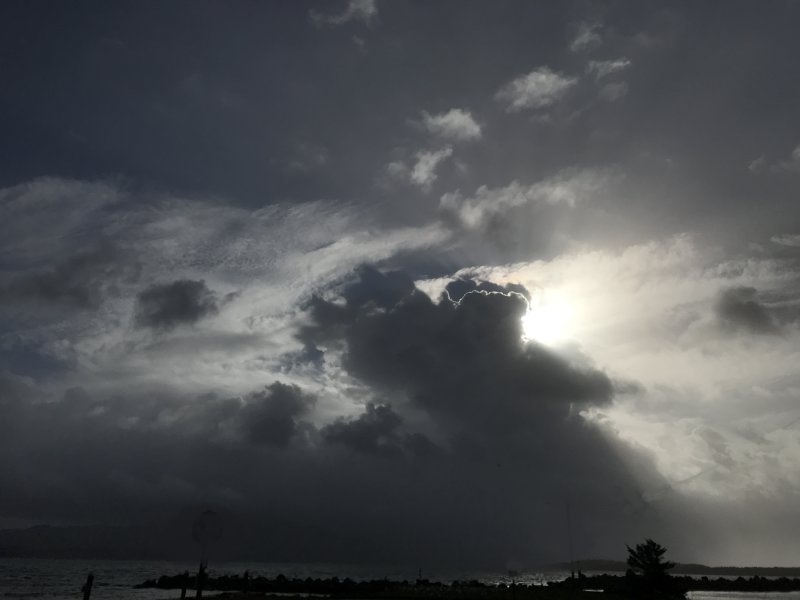 Click the player to listen to the author's "Ambient 9".
It's a nice quiet piece.
Wrackline "about":
The Wracklineblog started with the "Hwy 101 Beaches" links. These lead to individual pages covering more than 70 beaches from Astoria, Oregon down to Brookings, Oregon. Each page has beach/park information, usually a picture of the entrance sign, and one or more scenic pictures taken by the author. Here's an illustrated sample

 However, the Wracklineblog has expanded, and now has photography tips, an exhaustive list of the most moving ambient music, and a growing health/nutrition section, with vegetarian recipes and nutrition information, and various essays, including the newly-added "excerpts from Jimmie's Journals". Some "HTML coding" references and a cool HTML color tool have also been added.
Wrackline "AD Policy":
NO ads! NOTHING that moves! Period.
 However some of the sections have links that will allow you to purchase books and/or other items. For example, the Photography Tips section offers links to purchase the cameras/lenses that were used to create all the pictures in the blog. If you have an interest for any of these books or items, purchasing them by way of these links will provide a little extra income for the author, who is retired.