Here is presented some ideas for making breakfast a bit more interesting. Some tips on frying or scrambling eggs are shown (for the "lacto, ovo vegetarians" among you). And there's a section on re-defining hot cereal, which is "guaranteed" to send you to the store for some hot cereal and assorted hot cereal "condiments". Check out also our "pancakes with substance". full of seeds, rolled grains, nuts and the like. Recently added is our "morning whole grain pilaf" - great with eggs. Featured as well are a couple of quick but delicious dishes that have some staying power - they'll "stick wi' ya".
Breakfast Part 1: Re-defining Hot Cereal
Hot cereal is typically, well, "good for you", but really bland in taste. Adding sugar or honey doesn't help much either. So here's some tips on amping up the flavor:
 For starters, try mixtures of cereals instead of just one. Combine a "rolled" type of grain with a finer grain. Some examples:
Bob's Red Mill thick cut rolled oats plus Bob's Red Mill 6 Grain
Bob's Red Mill thick cut rolled oats plus Bob's Red Mill 8 Grain
Bob's Red Mill 5 Grain (rolled) plus Bob's Red Mill Oat Bran
Bob's Red Mill Museli (rolled) plus Bob's Red Mill Oat Bran
Next, use milk, almond milk, or another vegan milk instead of plain water. This makes a significant difference. I use 2% milk.
 And lightly toast some of the grains. For example, If you are using 1/4 cup of the thick cut rolled oats, toast half of it. You can certainly toast the entire amount, and that would be OK, as long as the toasting is LIGHT. Toasting, like all other cooking, is a bit rough on the nutrients.
 Try some malted milk as the sweetener! Just spoon some on top after you have heated the cereal and "poke it down" into the cereal a bit with a fork. Another sweetener is half a ripe banana.
 Finally, add some seeds and/or nuts, lightly toasted:
Pecans, walnuts, almonds, or hazelnuts for the nuts. (If you place almonds into a small container of hot water for a minute or two, the skins will easily come off, and the almonds will be softened)
For the seeds, try sunflower or pumpkin seeds.
As a final topping, try sesame seeds or hemp seeds.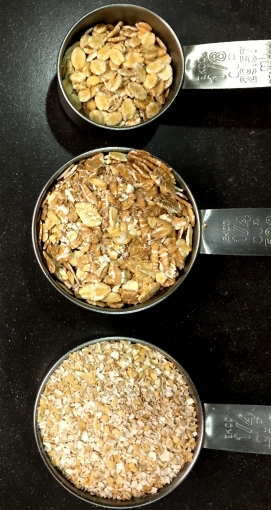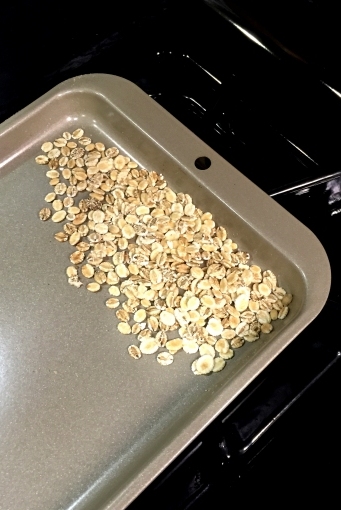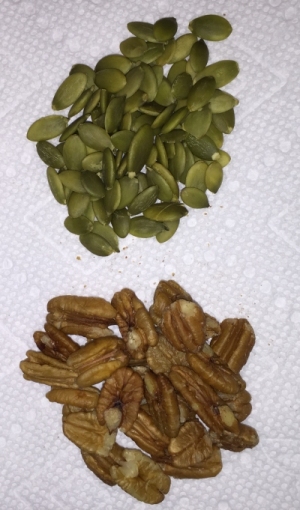 Here's how to do it.
 Measure out about 1/4 cup of each cereal (Fig 1). As mentioned above, you can lightly toast 1/2 or all of the rolled oats, or the rolled 5-grain or the rolled museli - after removing any of the fruits from the museli. The easiest way to toast grains, nuts, or seeds is to simply "dry roast" them in a shallow small pan placed over a stovetop burner on low heat. (Fig 2) They should not even be allowed to turn brown; just have a slightly toasted scent.
 Place the cereal in a Pyrex bowl. (We are going to microwave our cereal. There is a bit more flavor if it is heated in a pan on the stovetop, but then you have to clean up the pan. Your call. . .)
 This will make a fairly large serving. So you may adjust accordingly.
 For extra flavor, toast a palm-full of rolled barley (shown at the top of Fig 1) and add to the mixture. Rolled barley is HARD to find. Natural Grocers has rolled barley in a bag, if you have a Natural Grocers in your area.
 (Optional) Add a pinch of salt. This makes a difference.
 Add about 3/4 cup of the desired milk (if you used 1/4 cup of each cereal type). Place in microwave and heat for 1 1/2 minutes on high. The milk should be bubbling with this amount of heating. Let stand for a bit so it will cook. For extra sweetness, slice up about 1/2 of a ripe banana and stir into the cereal. Then heat for 30 more seconds. Let stand some more.
 While this is going on, gently toast some cut-up nuts.
 Then lightly toast some seeds. ( Nuts and seeds shown in Fig 3) Good combos of nuts/seeds are walnuts/sunflower seeds and pecans/pumpkin seeds, or almonds or hazelnuts and either seed.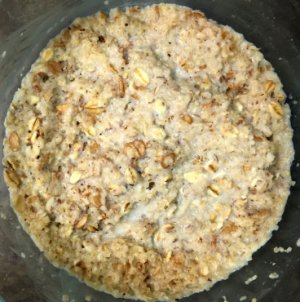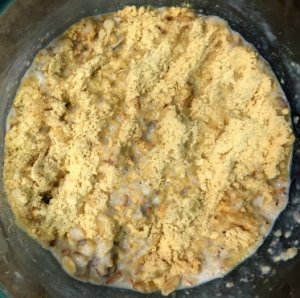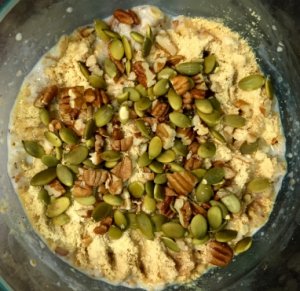 Take your heated cereal out of the microwave (or remove from pan and place into a bowl) (Fig 4). It should be a bit more moist than you usually like (the dry malted milk will absorb some of the milk). Add some milk if needed. Add a spoon full of ground flax (if desired) on top for extra flavor and powerful nutrients.
 Spoon a light layer of malted milk on top, and pierce it repeatedly with a fork. (Fig 5) Heat about 15 - 20 seconds more in the microwave.
 Pour the nut/seed mixture on top of the malted milk. (Fig 6)
 (Optional) Lightly toast some sesame seeds or hemp seeds and place on top. Flax seeds would be great too, but they will tolerate only minimal heat and might be best placed untoasted.
Enjoy the tastiest hot cereal you've ever had!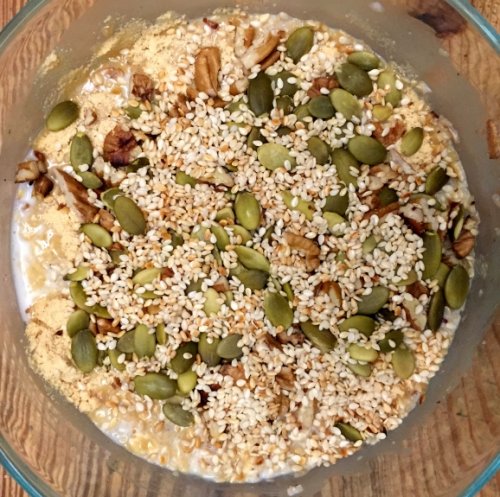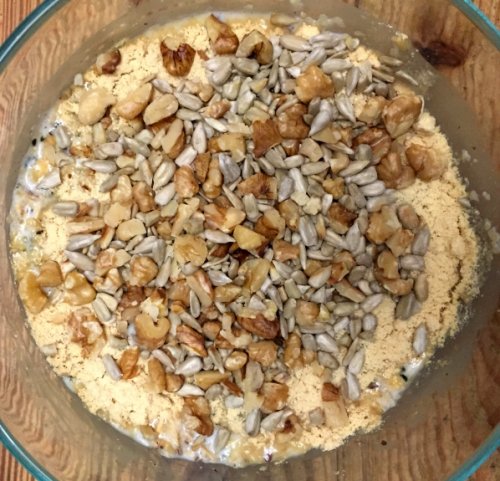 2 More Delicious Hot Cereal Samples
Here's a quick meal that has remarkable staying power. It's banana with nut butter and various berries or seeds. It may not look like much, but the nut butters are surprisingly filling and will fill you up quickly. Try cashew or almond butter - the "crunchy" style is the tastiest. It's shown with some Goji Berries, Mulberries, and cocoa nibs. But the possibilities are endless. Try pecans and Goji Berries, walnuts and pumpkin seeds, or any combination of nuts, seeds, and berries.

Here's another quick meal. Lightly toast your favorite whole grain bread (for some reason, the taste is not as good if the bread is toasted too dry). Spread on some cashew or almond butter and top with your desired seeds, nuts, and/or berries. It's shown with cashew butter on the top two slices and almond butter on the bottom slice.

2 Quick But Substantial Meals
Breakfast Part 2: Eggs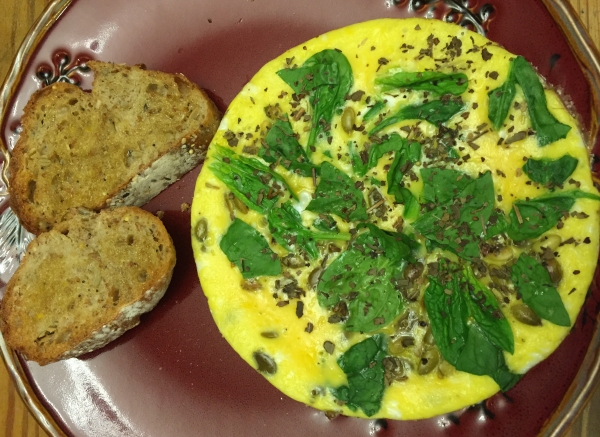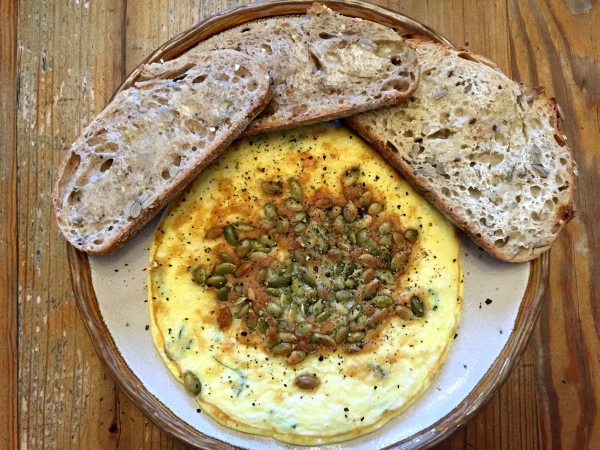 How to Scramble Eggs - Some Suggestions
Scrambled eggs don't have to be boring. They benefit from adding certain herbs, and can be made more interesting by adding seeds, spinach, and the like. Here's some tips on scrambling them:
It's usually better to break the eggs into a bowl and stir vigorously with a fork.
Place a pat of butter in a small non-stick skillet and move it around to coat the bottom of the skillet. remove the excess before it melts. This way, you get very little of the fat. OR: spread a light coat of olive oil on the bottom.
If you are going to add chopped/sliced onions and/or mushrooms, saute them a bit in the skillet in a bit of olive oil first. (omit the butter). Cover the skillet for more even softening of the onions/mushrooms. If you don't have a cover for the skillet, an inverted skillet of the same size works great.
Pour the eggs into the skillet. If you are adding seeds rather than the onions, sprinkle the seeds into the eggs. Sprinkle some of the Jane's salt or the salt seasoning or salt substitute of your choice. If adding spinach, just drop some pieces on the top of the eggs.
Two herbs can be used to make great eggs. Try some fresh cut basil (or dried basil in the cooler months). Another great herb is sage!
If you want the round unstirred eggs as shown on the left above:
Just cover the skillet. This allows the top part to cook from the steam generated from the cooking. Reduce the heat to just above simmer. Check from time to time to see if the top part has firmed up. The bottom may have a tasty browned/carmelized coating. If you want to show 'em this way, carefully flip the eggs when firm. Better yet, just invert the pan over your plate. (The author keeps a small non-stick skillet for scrambling/frying eggs only - it's not used for anything else!)
For "just" scrambled eggs (that is, not "formed" in a circular shape):
Stir almost constantly throughout the cooking. Preferably, use a plastic fork (HARD to find!) to keep from scratching the non-stick surface. Reduce the heat to just above simmer.
Onion and mushroom Eggs

Here's a delicious way to start your day! To prepare this dish:

Saute some onions and mushrooms in another skillet (not your "scrambled eggs skillet"). Use a bit of olive oil and a bit of the Jane's or other salt, or salt substitute. Better yet, just plan to have this breakfast the morning after you have sauteed some onions and mushrooms for dinner. Just set aside some for breakfast. This works for peppers, leeks, or other veggies of your choosing.

Place the sauteed onions and mushrooms in your scrambled eggs skillet, which has been coated with a small amount of olive oil or butter.

Break the eggs into a small bowl and stir thoroughly. Pour them over the onions/mushrooms.

Add just a bit more of the salt/salt substitute, if desired. Sprinkle some basil or parsley on top.

Cover the skillet and cook on low heat for a few minutes, checking periodically for desired firmness.

Slide the finished eggs into your plate. If you want to "present" with the carmelized onions showing, invert the skillet.
A couple of tips on frying eggs:

Place a pat of butter in a small non-stick skillet and move it around to coat the bottom of the skillet. remove the excess before it melts. This way, you get very little of the fat. OR: spread a light coat of olive oil on the bottom.

Crack the eggs into the skillet.

Busted a yolk, by chance? If so, just poke the other one. Then they will cook evenly. It will take much less time if you like your yolks slightly runny.

Sprinkle some of the Jane's salt or the salt seasoning or salt substitute of your choice. If adding spinach, just drop some pieces on the top of the eggs.

Try some fresh basil if you have it. This is shown in the image on the left.

Other great herbs: Sage or parsley.

Cover the skillet. This allows the top to cook due to the higher heat and steam. This way you won't have to flip the eggs, with the attendant risk of busting the yolks and ruining a good "presentation". Just check your eggs from time to time and remove when they are cooked to your likeing.
Breakfast Part 3: Pancakes
Want to make pancakes that have some substance, and not just refined carbs? For starters, you can use a pancake mix with whole grains. Some examples:
Bob's Red Mill organic 7 grain pancake mix
Bob's Red Mill 10 grain pancake mix
Bob's Red Mill organic high fiber pancake mix
Arrowhead Mills organic sprouted grain pancake mix
Arrowhead Mills multigrain pancake mix
Also, for extra chewiness, you can add some rolled oats, or rolled barley flakes. You don't even need to cook either of these first. Note that rolled barley is hard to find. Usually it's supplied as "pearled barley" or "barley groats". Another coarse mixture is Bob's Red Mill rolled 5-grain cereal.Consider also some sunflower seeds.
 For extra sweetness in the mix itself (so that you can skip the maple syrup):
Add a ripe banana
Add some malted milk
Add some fruit
Add all the above!
 Here's Jimmie's blueberry pancakes:
Blueberry-walnut-banana pancakes with rolled oats and flax

Ingredients

1 cup of one of the whole grain mixes mentioned above

1/3 to 1/2 cup Bob's 5-grain rolled cereal

A generous swizzle of olive oil (about 1 tablespoon)

1 egg (optional). This helps them hold together better.

1 ripe banana

About 1/8 - 1/4 cup malted milk

Some blueberries

Some ground flax, say 1/8 cup (if desired)

Some walnuts, pecans, or hazelnuts

Cooking
 Dry mix all the ingredients in a bowl. Cut up the banana into relatively small pieces and then add to the mix. The walnuts can be lightly toasted before they are added, if desired. Then add about 3/4 cup water, stirring constantly. The mix should be relatively thick, although you may prefer it thinner. You can optionally use milk, almond milk, or something similiar instead of water.
 Add a bit of olive oil to a nonstick skillet and preheat a bit on medium heat.
 Using a tablespoon, drop some of the mix into 3 or 4 places on the skillet. Spread each one to about 3/8 inch thickness.
 The heat is about right if you hear a gentle sizzling. Allow to cook a few minutes until the edges become slightly hard. The edges will not necessarily be brown. You can gently lift one of the pancakes to check for brownness. Flip the pancakes when they have reached the desired color. If they are too brown, turn down the heat a bit. If they are just sort of a light tan color, turn up the heat a bit. The other side will usually cook a bit faster. When you cook the next batch, turn down the heat a bit if they brown too quickly.

Breakfast Part 4: Make your own pilaf!
Wanna have something that is a lot more nourishing than corn grits? Consider making your own whole grain pilaf. For example, Kashi offers their own whole grain pilaf in a box with three packets which will do about 3 servings each. It's not exactly easy to find, but you can easily make your own, using grains of your own choosing. Assuming the nutrition profile is similiar to that of Kashi's, you're looking at about 5 grams of fiber and 5 grams of protein per 1/4 cup (dry) serving!
 You can get the grains in any bulk section, or from Bob's Red Mill products. Try:
Oat groats
Barley groats (or "Karma" barley, or "Streaker" barley)
Buckwheat groats (or Bob's roasted buckwheat - "Kasha")
Bulgar wheat, wheat berries, or hard red winter wheat
Farro
Millet
Polenta (corn grits)
Consider adding sunflower seeds, sesame seeds, walnuts, or pecans as well
For LOTS of extra flavor, add sauted onions and/or celery.
Here's Jimmie's 5 grain onion-celery pilaf
Multi-grain pilaf

Ingredients

1/4 cup barley groats

1/4 cup hard red winter wheat

1/4 cup oat groats

1/4 cup farro

1/4 cup millet

1/4 cup polenta (corn grits)

about 2 stalks celery

about 1/2 onion

Cooking
NOTE: This will make about 4 substantial servings! If you want less, use "scant" 1/4 cup portions and reduce the amount of water.
 Rinse all the grains and drain. Add to pan and add about 2 1/2 cups water. Add some Jane's salt or your own choice of seasonings. Heat to boiling and reduce heat to simmer. Stir often!
 (Hint: Start heating your grains before you do anything else.)
  Cook for about 15-20 minutes, stirring often. Watch the water level and add more water if the grains simmer dry.
 Slice up the celery and onions relatively fine and saute in olive oil until soft. Add a bit of Jane's salt as you are cooking the vegetables. (Keep and eye on your simmering grains!)
 When the grains are finished simmering (they absorb a great deal of water), add the celery/onions. Add some cut-up basil or parsley at this time, if desired.

 (That's scrambled eggs in the image to the left, accompaning the pilaf. See my tips on scrambling eggs above.)

Here is another batch of the pilaf, this time with fried eggs.
Breakfast Part 5: Re-defining Cold Cereal
You can make your own cereal mixtures!

Cold cereal is great for the warmer months (all 3 of 'em up here in the Pacific Northwest). My preference has been for the granola-type mixtures, with raisins, dried berries, nuts, and the grain "clusters".
 Some choices shown above are:

Nature's Path Red Berry Crunch, Maple Pecan Crunch, Pumpkin raisin Crunch, Heritage Crunch, Blueberry Cinnamon Flax.

Cascadian Farm Hearty Morning Fiber or Fruit and Nut.

Back to Nature Risin' Raisin Blend.  But these are usually too sweet, so I "cut" them with an equal part of a sugarless or low-sugar cereal, such as

Ezekiel 4:9 or Uncle Sam

Then I had an "epiphany". (Old men do this from time to time): A person can make their own blends, using low-sugar or sugarless cereals!

So here it is. "Jimmy's Cereal Fixins'". Start with a low-sugar cereal. Examples are:

Nature's Path Heritage Flakes, Flax Plus, or Mesa Sunrise.

Ezekiel 4:9 or Uncle Sam Cereal.

Then add your desired berries, seeds, nuts, and the like (examples shown to the left):

Goji Berries

Mulberries

Golden Berries

Raisins, Currants

Coconut Flakes

Dates

Figs (not shown)

Dried Apricots

Dried Plums

Dried Cranberries

Almonds, Walnuts, Pecans, Hazelnuts

Sunflower or Pumpkin seeds

Flax or Hemp seeds

So now you can have an exceptionally healthful cereal, and avoid the excessive sugar. If you add dates, figs, plums, or raisins, your mix should be sweet enough. Otherwise you can use honey or molasses (very high in iron) as a sweetener. Another excellent way to sweeten your mix is to add some malted milk, as suggested in the Hot Cereal section.
Cold Cereal sample

Uncle Sam cereal

figs

goji berries

pecans

"zante currants" (small raisins)