Wrack Line Blog "about" and "AD policy" can be found below the picture. What's a "Wrack Line"
What's NEW in the Wrackline blog?
NEW: "Home Theater Made Simple". How to set up your own Home Theater system. Also has a Magic Decoder Ring for all the BUZZWORDS. NOTE: Creating a Home Theater system is worth the effort!
UPDATED: "Jimmie's Top 500 Ambients": 26 new tracks have been added, for an actual total of 620!
RECENT: "Jimmie's Top 100 Ambient Christmas Tracks" Here's Jimmie's list of Christmas music with depth of feeling!
Check out "Examples of CSS styles". This is a sample, with CSS code, of all the "styles" used throughout the Wracklineblog. It's in the "HTML/CSS Goodies" section at the bottom of the site links list on the right.
Check out "Examples of this CSS tables". This is a sample (with CSS code) of the "tables" used in the Wracklineblog. It's also in the "HTML/CSS Goodies" section at the bottom of the site links list on the right.
Check out "Guilty until proven innocent". It used to be that we were all "Innocent Until Proven Guilty". In many cases nowadays, it's the other way around.
Check out "Tips on using the iPhone Camera". Make use of the Little Yellow Rectangle. Learn how to "stop down" for more dramatic pictures. Lock the focus and exposure. Plus two VERY useful gadgits.
Check out "The Standard Superhero Plot"! It's a spoof on Superhero movies, since every superhero movie has essentially the SAME plot! Look in "Essays".
Check out "Wishlist for New Homes"! I have actually not found a more comprehensive list in my own internet searching.
Updated Weekly: "Entries from Jimmie's Journal." The home page will feature a quote from my journals, which span from 1975 to the present. It is hoped that these little quotes may lead to a little extra depth of feeling for you, and that some of them might even lead to a greater understanding of our relationship to the Universal Consciousness. And also, some of 'em are for just for the sake of humor! There's also a "Previous Journal Entries" link for past quotes. This is also updated weekly (unless, of course, yours truly is busy fiddling with home improvement or landscaping projects!)
 Click the audio player below for some quiet music to accompany your reading, if you want to.
1/16/2020: Not "Up There"
 I was daydreaming about telling someone about my experiences during the weeks after my dad passed away. Things that we used to do together would come up. "Oh, it's April. The Boat Show is next week. I'll call dad. . .
 Oh wait. Now that he's 'up there', no more going to the Boat Show."
 A thought then struck me about the "Up There" part.
 Over the years I have begun to think differently about the "location" of the Great Spirit. When giving thanks or making a positive affirmation - "Thank You for health and youth", "Thank You for prosperity", and the like, I began to use the phrase "It's important to get the direction right. We are not thanking some Being 'Out There' or 'Up There' (in some imagined 'heaven'). We are thanking the Spirit within."
 So it was the "up there" phrase that struck me during this daydream.
 It then ocurred to me to say the same thing about departed loved ones as I now do about the Great Spirit: Those who have gone before are not "up there".
 If we say that all is One, and if we say that the Great Spirit is not "up there" but within, then all those people are also within.
While writing this, the words 'gone before' reminded me of a journal entry from some time ago. I opened all my journals looking for that entry, and didn't find it until I got to the one from 1997:
 12/10/97, Death and Going Before
 We say that people have "gone before":
 "Oh Spirit, please accept those who have gone before us".
 But what about this phrase "Gone Before"? perhaps that only applies for us who are in time. For spirit, not in time, no one has gone before. . .
A light in the clouds (from a plane window)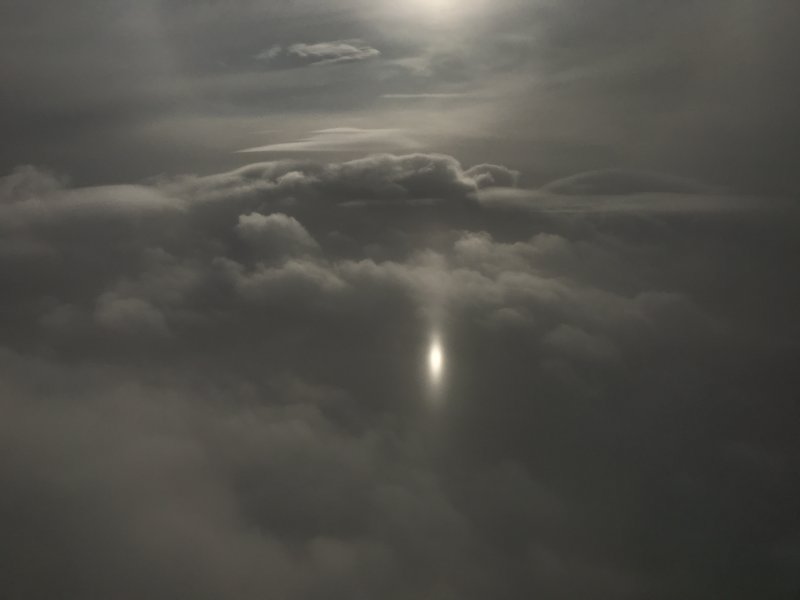 Click the player to listen to the author's "Christmas Medley 2"
Or click this player to listen to the author's "Bell Carols"
Wrackline "about":
The Wracklineblog started with the "Hwy 101 Beaches" links. These lead to individual pages covering more than 70 beaches from Astoria, Oregon down to Brookings, Oregon. Each page has beach/park information, usually a picture of the entrance sign, and one or more scenic pictures taken by the author. Here's an illustrated sample

 However, the Wracklineblog has expanded, and now has photography tips, an exhaustive list of the most moving ambient music, and a growing health/nutrition section, with vegetarian recipes and nutrition information, and various essays, including the newly-added "excerpts from Jimmie's Journals". Some "HTML coding" references and a cool HTML color tool have also been added.
Wrackline "AD Policy":
NO ads! NOTHING that moves! Period.
 However some of the sections have links that will allow you to purchase books and/or other items. For example, the Photography Tips section offers links to purchase the cameras/lenses that were used to create all the pictures in the blog. If you have an interest for any of these books or items, purchasing them by way of these links will provide a little extra income for the author, who is retired.
 NOTE: Clicking on these Amazon links takes you to the same location that you would get if you searched for and clicked on yourself. The security level is the same, and there is no difference in price. Amazon has an "Associates" package, in which Amazon itself pays a small percentage to the referring web site.