Wrack Line Blog "about" and "AD policy" can be found below the picture. What's a "Wrack Line"
NOTE: Your peregrine author has returned from a month-long visit to the kids in Texas. I will be back to providing updates and essays on a weekly basis.
 I am currently putting together a "home theater" system, and plan to have an article with tips on setting one up, along with some decoding of the jargon associated with home theater systems!
What's NEW in the Wrackline blog?
RECENT: "Jimmie's Top 500 Ambients": 39 new tracks have been added, for an actual total of 594!
NEW: "Jimmie's Top 100 Ambient Christmas Tracks" Here's Jimmie's list of Christmas music with depth of feeling!
RECENT: "Examples of CSS styles". This is a sample, with CSS code, of all the "styles" used throughout the Wracklineblog. It's in the "HTML/CSS Goodies" section at the bottom of the site links list on the right.
RECENT: "Examples of this CSS tables". This is a sample (with CSS code) of the "tables" used in the Wracklineblog. It's also in the "HTML/CSS Goodies" section at the bottom of the site links list on the right.
Check out "Guilty until proven innocent". It used to be that we were all "Innocent Until Proven Guilty". In many cases nowadays, it's the other way around.
Check out "Tips on using the iPhone Camera". Make use of the Little Yellow Rectangle. Learn how to "stop down" for more dramatic pictures. Lock the focus and exposure. Plus two VERY useful gadgits.
Check out "The Standard Superhero Plot"! It's a spoof on Superhero movies, since every superhero movie has essentially the SAME plot! Look in "Essays".
Check out "Wishlist for New Homes"! I have actually not found a more comprehensive list in my own internet searching.
Updated Weekly: "Entries from Jimmie's Journal." The home page will feature a quote from my journals, which span from 1975 to the present. It is hoped that these little quotes may lead to a little extra depth of feeling for you, and that some of them might even lead to a greater understanding of our relationship to the Universal Consciousness. And also, some of 'em are for just for the sake of humor! There's also a "Previous Journal Entries" link for past quotes. This is also updated weekly (unless, of course, yours truly is busy fiddling with home improvement or landscaping projects!)
 Click the audio player below for some quiet music to accompany your reading, if you want to.
12/22/2012: Cycles of Birth and Death as Eternality
 From the 365 Science of Mind (Ernest Holmes):
 "The grass withers and the flower thereof falls away: But the Word of the Lord endures." (Peter 1:25).
 "The unreal has no being. The real never ceases to be." (Bhavagad Gita)
Ernest then says "The unreality of appearance lies not in the thing of itself but in our interpretation of it."
 We say that the grass dies and that the flower fades and decays. But is this just our interpretation of it? If we were to ask Spirit about this sort of thing, Spirit might reply: "Well, when I create Space and Time, the things of that creation must move and they must change. You see these things as being not like me, not being changeless. To you, the blade of grass cannot exist unchanging forever. The blade of grass had a beginning when it sprouted from the seed and it will have an end when it turns brown and becomes part of the soil, leaving behind its seed. Later the seed becomes another blade of grass.
 You call this a movement through time, since this is what you know.
 I call it the eternality of the blade of grass, because this is what I know.
 You experience something similar.
 You are born as a perfect being with flawless skin, bones, muscles, and joints. Throughout your life you age, dry up a bit, experience decline, and then become part of the soil. But you too leave behind your seed.
 You call this life and death.
I call it the eternality of your being. I call it the Incarnation."


Winter scene near Bend, OR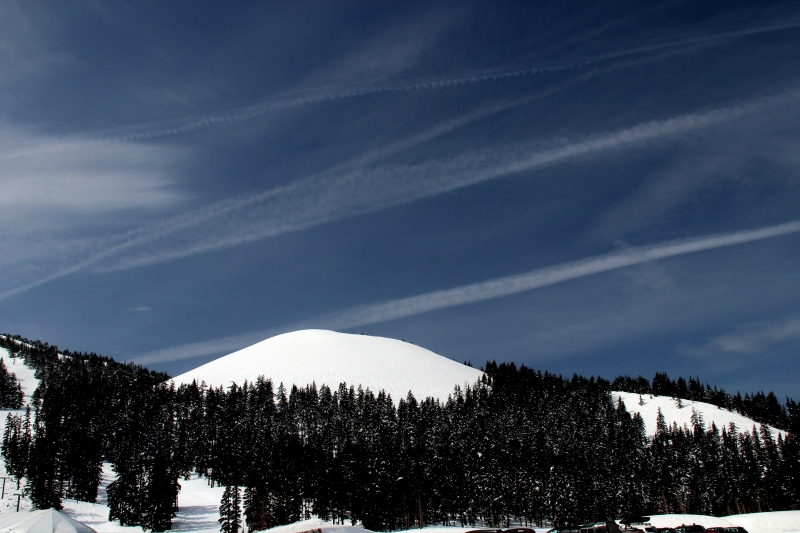 Click the player to listen to the author's "Christmas Medley 2"
Or click this player to listen to the author's "Bell Carols"
Wrackline "about":
The Wracklineblog started with the "Hwy 101 Beaches" links. These lead to individual pages covering more than 70 beaches from Astoria, Oregon down to Brookings, Oregon. Each page has beach/park information, usually a picture of the entrance sign, and one or more scenic pictures taken by the author. Here's an illustrated sample

 However, the Wracklineblog has expanded, and now has photography tips, an exhaustive list of the most moving ambient music, and a growing health/nutrition section, with vegetarian recipes and nutrition information, and various essays, including the newly-added "excerpts from Jimmie's Journals". Some "HTML coding" references and a cool HTML color tool have also been added.
Wrackline "AD Policy":
NO ads! NOTHING that moves! Period.
 However some of the sections have links that will allow you to purchase books and/or other items. For example, the Photography Tips section offers links to purchase the cameras/lenses that were used to create all the pictures in the blog. If you have an interest for any of these books or items, purchasing them by way of these links will provide a little extra income for the author, who is retired.
 NOTE: Clicking on these Amazon links takes you to the same location that you would get if you searched for and clicked on yourself. The security level is the same, and there is no difference in price. Amazon has an "Associates" package, in which Amazon itself pays a small percentage to the referring web site.