Hwy 101 mile marker 137.
Yaquina Head Outstanding Natural Area can be reached by turning West at the first traffic light as you enter Newport from the North. The lighthouse is 93 feet high and is Oregon's tallest. The lighthouse features one of the few "first-order" Fresnel lenses left. It is still illuminated.
Site Resources: Lighthouse, Interpretive center, store, picnic tables, restrooms
Yaquina Head entrance on 101 ("Lighthouse Dr")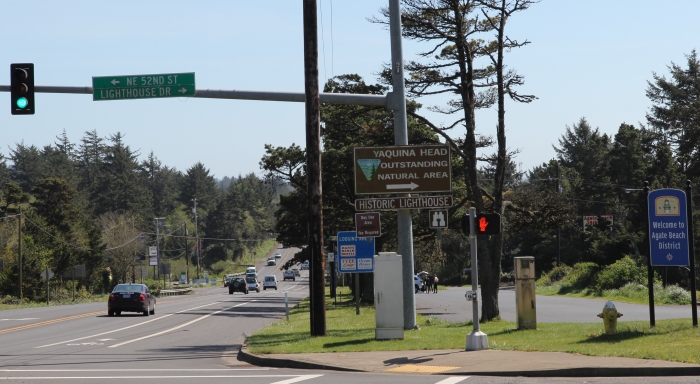 Here's the lighthouse, and a coast view
The lighthouse

Yaquina Head is Oregon's tallest lighthouse, at 93 feet. It is fitted with a first order fresnel lens, which is still in use. ("First order" means 6 feet diameter, 10-12 feet high, weight approx 1 ton!). Tours are available year round, though for longer hours only in the summer.

Lighthouse nerd note: "Fresnel" is pronounced "Frey-nel".
Here's a close-up of the lens tower

Close up of lens tower
View of the coast

Here's a coastal view from the lighthouse area.