Hwy 101 mile marker 65b.
Cape Lookout can be reached by taking Hwy 131 out of Tillamook. You can also reach it by a considerably longer route by taking the right turn at the Three Capes Loop sign.
The main park entrance leads you to a long beach bound by a cliff on the north. To the south, you are afforded a several mile walk along the "spit" that borders Netarts Bay.
The main park has camping areas, yurts, and cabins.
If you drive by the main park entrance, in about a mile you will come to the trailhead entrance. This leads to several trails. The South trail is a loop high above the surrounding ocean, with many excellent views. Another trail (a left turn about 100 ft into the South Trail) leads to a "vertical" descent down to another beach.
Site Resources: 35 full-hookup sites, 170 tent sites, 1 electrical site, 13 yurts, 6 deluxe cabins, 2 group tent camping areas, group pavilion in view of the ocean, showers, restrooms
Three Capes Scenic Loop entrance. Take this right to reach Cape Meares Beach.
To reach Cape Meares Park, Oceanside Beach, and Cape Lookout Park, continue straight on hwy 131.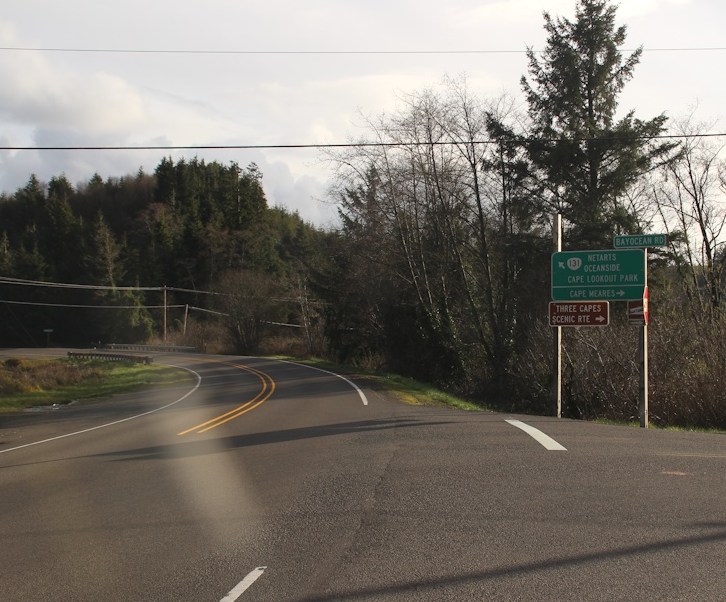 Some photos taken at Cape Lookout
The view looking north

This is a view looking North from the beach that is accessible at the main park.
This is one of the fine views that are available from the South Trail.

View from the South Trail.
The view from the "vertical" hiking trail

If you take the trail leading down (and we mean DOWN!) to the beach, here's one of the views.